Impact of Giving
Gifts to the Faculty of Medicine contribute to improving health locally, nationally, and internationally. Explore some examples of what our students and faculty are achieving with donor support.
Inspired by medical and scientific discoveries in BC that are changing the prevention, early detection and treatment of ovarian cancer around the world, Dr. Chew's family and friends have honoured his determination to improve cancer outcomes by giving more than $8.5 million to the UBC Faculty of Medicine in the past five years.
The current numbers are ominous and the projections even worse – over 747,000 Canadians 65 and older now live with Alzheimer's disease, a number expected to double to 1.4 million by 2031. Dr. Haakon Nygaard, UBC's new Fipke Professor in Alzheimer's Research, says Alzheimer's affects everybody, not just those afflicted with it.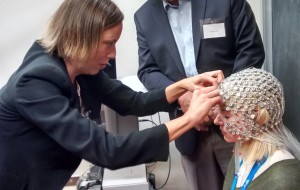 Most people enjoy the sound of laughter, but not Wes Pahl. When Wes hears laughter, he is tormented by the thought that people are laughing at him or about him. He suffers from schizophrenia, a debilitating disease that causes delusions, hallucinations and disorganized thinking—a disease that causes people like Wes to live in conflict with the world around them.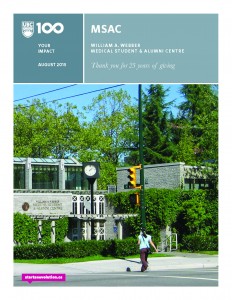 As UBC celebrates the 25-year anniversary of MSAC, we take pride in recognizing the tremendous impact the building has had on students, alumni and the wider medical community in British Columbia.
Searching for an app to track your moods? Choices abound: Moody Me, MoodPanda, HappyApp and Depression Cure. But professional-grade tools are scarce. UBC faculty members, sensing a need, went to work.
Even before Canada's first sports medicine clinic opened at UBC in 1979, its founders noticed a connection between the repetitive strain injuries of athletes and the obscure findings of a physician with the Workers' Compensation Board of British Columbia.
Kurt Gagel's love of cycling began in boyhood, biking to school each day in Bremen, Germany. It continued into adulthood, on cycling tours through his native land and other parts of Europe, and during rides around his adopted hometown of Vancouver.
Cheryl Wellington knew a few tricks of the trade when she set out to buy new equipment for her neuroscience lab, thanks to strategic advice from the business veterans supporting her dementia research.
Western Canada's only Taoist temple is easy to miss on a walk through Vancouver's Chinatown. Perched on the third-floor above a gift shop, the shrine provides a quiet place for the temple's followers to light incense, say prayers and shake cups of wooden sticks to find their fortunes.
When Gavin Vadocz was three months old, his body was beset by twitching and rapid eye movements. After being diagnosed with "unknown cause epilepsy," his mother prepared to administer a regimen of pills for the rest of Gavin's childhood.